Coke Takes a Sip of Dunkin' Coffee to Challenge Starbucks
When it comes to coffee, Coca-Cola (KO) is not the first name that comes to mind. However, the Atlanta giant is quietly making moves in the coffee space through its ownership of Costa Coffee, which some consider to be the second-largest coffee-house chain in the world. In addition, Coca-Cola has a massive partnership with Dunkin', the second-largest coffee chain in the U.S. and the world (depending on how you define "coffee house").
Despite these impressive partnerships, Coca-Cola faces stiff competition from Starbucks (SBUX), which dominates the coffee space with over 15,000 locations in the U.S. alone and 30,000 globally. To compete with the coffee giant, Coca-Cola has shifted its focus to the grocery and convenience store market, where it is partnering with Dunkin' to expand its ready-to-drink line.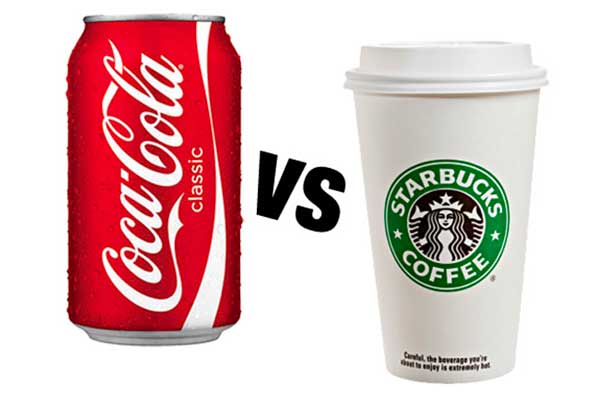 The Coca-Cola and Dunkin' partnership began in 2017 with a line of bottled coffees aimed at challenging Starbucks' dominance in the ready-to-drink coffee market. Now, the two companies are expanding their relationship to introduce new flavors in cans under the Dunkin' Iced Coffee Bakery Series. These flavors include Brownie Batter Donut, Cake Batter Donut, and Coffee Cake Muffin, and are exclusive to Dunkin'.
While Coca-Cola has not made any moves to bring Costa cafes to the U.S. just yet, it's clear why the company wants to expand in the global coffee market. According to Statista, the market has grown steadily over the years (except for a dip in 2020 due to the pandemic) and is expected to reach $433 billion in 2023. Coffee is among the most consumed beverages worldwide, with an average of 42.6 liters (11.25 gallons) consumed per person per year.
So while Coca-Cola may not have much experience being the No. 2 brand in many markets, it's clear that the company is determined to make a splash in the coffee space. Through its partnerships with Dunkin' and Costa Coffee, Coca-Cola is well positioned to compete with the likes of Starbucks and capture a larger share of the global coffee market.
Hey, I'm Matt a financial content writer with a passion for helping people improve their financial well-being. I have 15 years of experience writing on topics such as personal finance, investing, budgeting, and more. Thank you for reading my work, and I hope it helps you on your journey towards financial success. Learn more about me at MattHagens.com
This website uses cookies to ensure you get the best experience on our website